Lows this morning ran 47-53.
As of 2 pm, temperatures are running 78-85 over the viewing area with unusually low dew points (for June) of 25-41! This is giving us relative humidity levels to as low as 14%!
We have another day of tremendous evaporation & water loss, but not as intense as yesterday (without the stronger winds).
Increasing mid level clouds tonight will lead to partly to mostly cloudy skies & lows near 60.
Those depart tomorrow morning, followed by a day of cumulus clouds all over the sky (with south to southwest wind 14-25 mph).
Highs tomorrow will reach 84-89, but dew points will be held in check in the 50s. The humidity will be higher than today, but it will still NOT be humid.
Increasing & thickening high & mid clouds occur tomorrow night (with isolated shower or two) with lows 62-68.
After morning sunshine Monday as high / mid clouds thin, we cloud back up with a wave of scattered showers & a few storms late Monday morning to early afternoon.
A break will follow with some sun & building cumulus towers with some scattered storms in the evening.
Highs of 77-82 are expected with humid dew points of 67-71 with southwest to south winds 13-24 mph.
Rainfall totals will vary greatly from just 0.05 to as much as 0.70 ".
Monday night clearing with some patchy fog & lows of 57-61 are expected.
Tuesday & Wednesday look like nice days with low humidity & partly cloudy skies. Highs of 78-85 are expected daily with northwest winds becoming east then southeast.
Lows in the 50s to 60 are likely.
Incredible, record 2011- to 2012-style heat will take shape in the Plains & will be gradually expanding north & northeast in the June 8-13 period.
On the periphery of this intense heat, severe storm complexes in a "Ring of Fire" regime will arise.
So ….. the expanding extreme heat: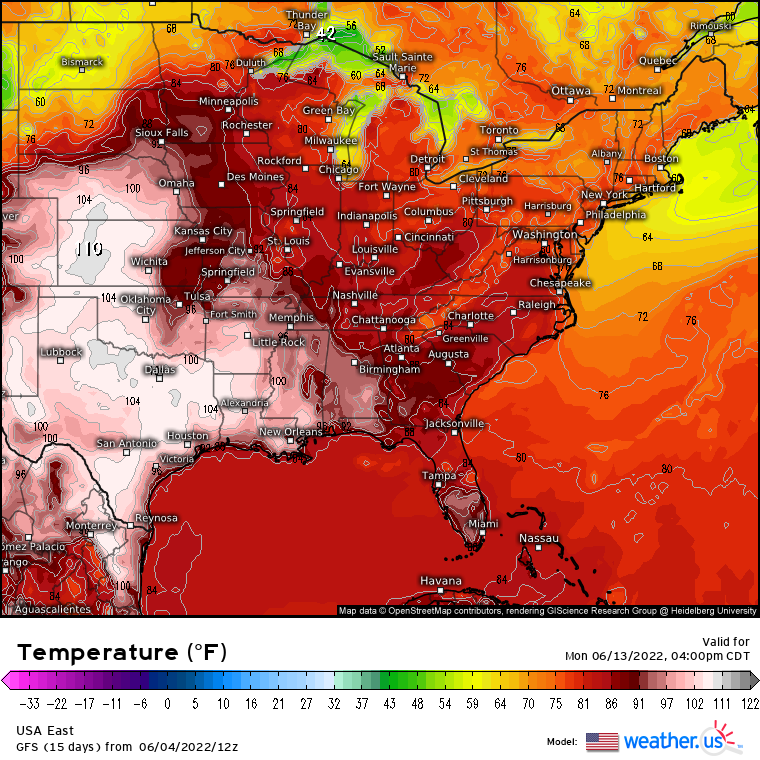 The severe storm clusters / complexes on periphery of the heat in the "Ring of Fire".
It seems as if the "Ring of Fire" may align from Nebraska to northern Mississippi Friday, June 10 to Saturday, June 11.
If we are going to get one of these "Ring of Fire" complexes with severe weather risk, it would likely occur Saturday night (June 11-12) to Sunday, June 12 as the extreme heat expands.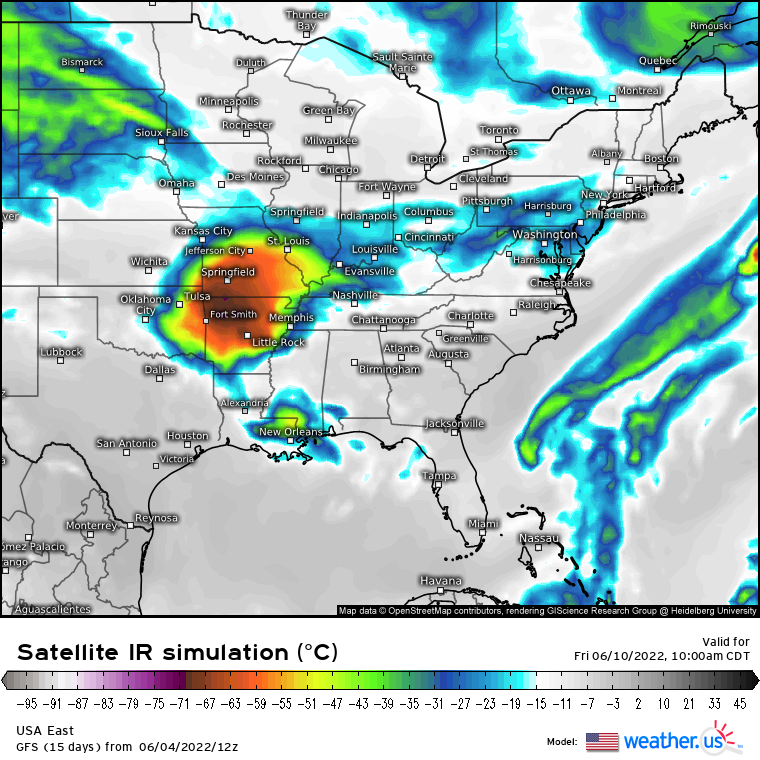 While a tropical system may make landfall in northern Mexico, a massive, intense, hot upper ridge will tend to dominate from the Plains to New England.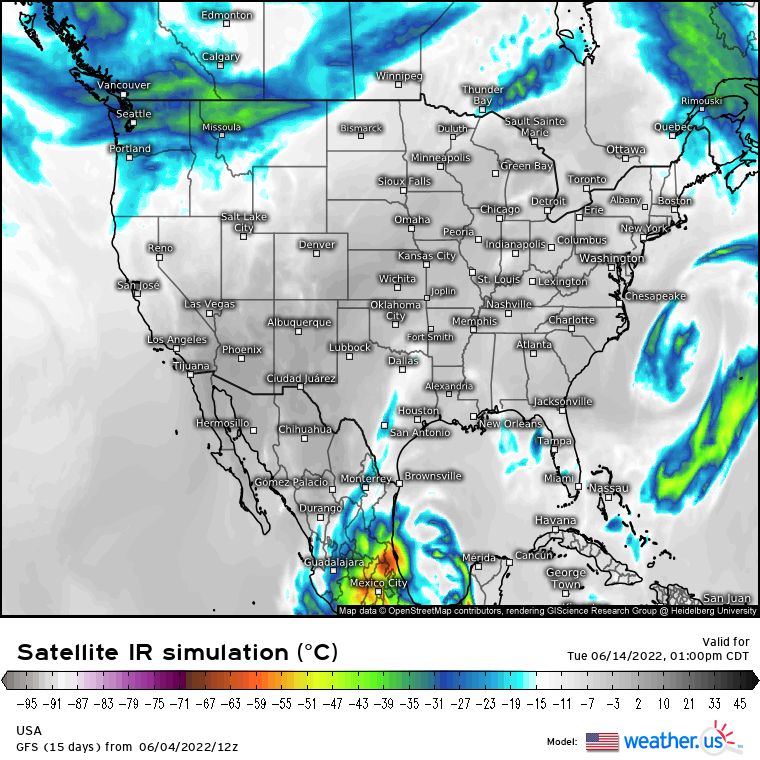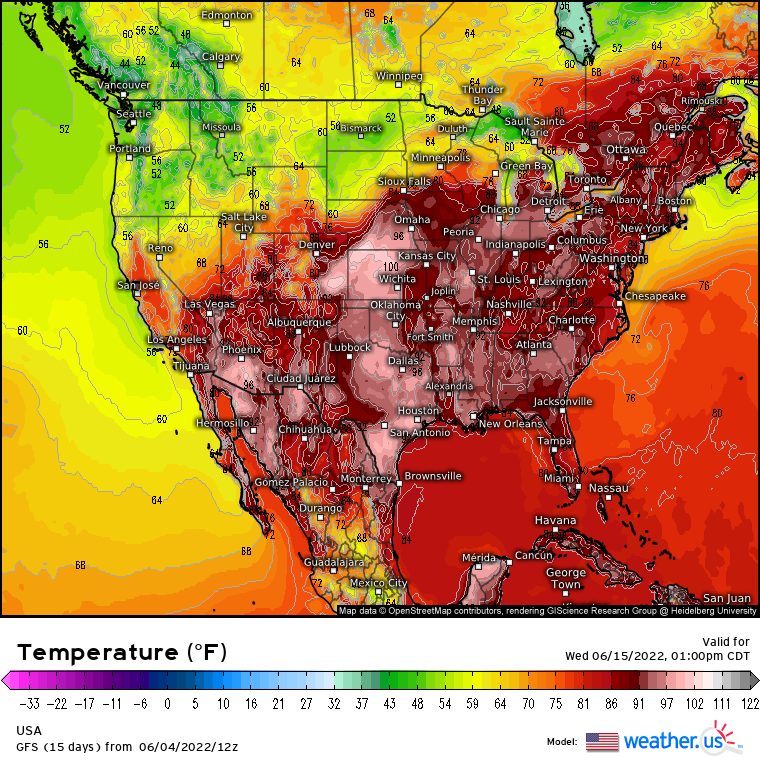 Temperatures on June 15, 1 pm, for example, show the heat moving into the area with 100 possible in northern & north-central Illinois & 90s here.
+105 heat indices are possible here as southerly winds move over wetter soils in that former "Ring of Fire" zone to our southwest.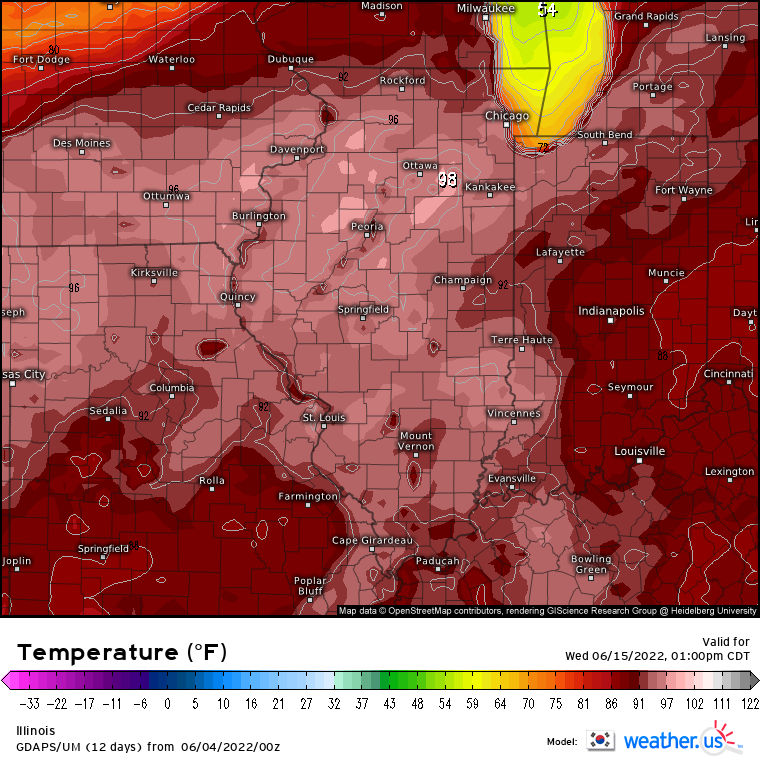 Around June 19, the hot ridge shows a bit of contraction in the East with us perhaps seeing slight heat & humidity relief.
However, it does not necessarily look like robust relief here.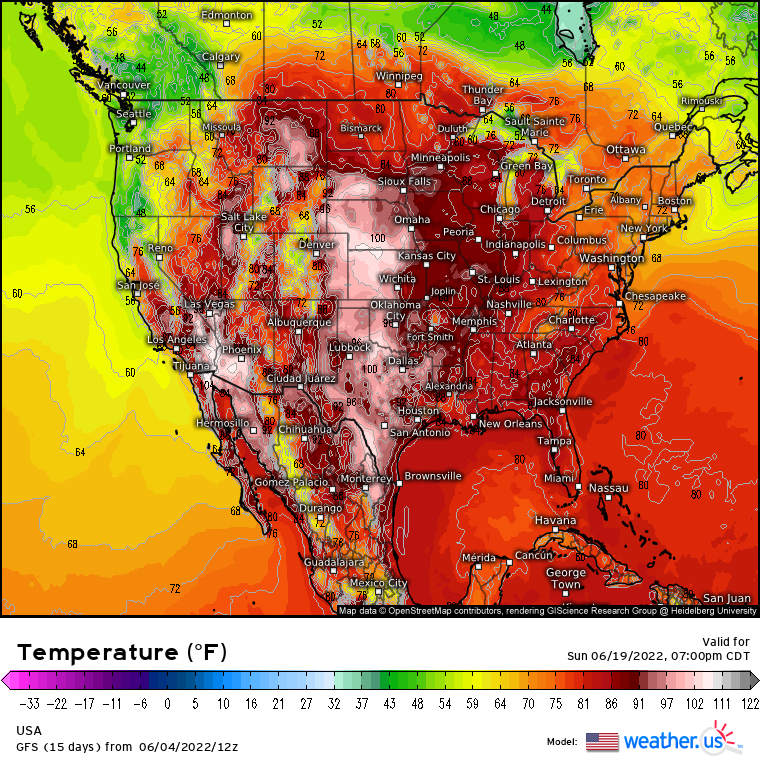 This slight contraction will likely be the result of stronger upper trough pivoting into the Great Lakes to New England, putting a dent in the ridge.
In this, we may very well see a "Ring of Fire" storm complex or derecho scenario.
The projected presence of +100 mph upper jet on periphery of ridge (with upper trough beginning to put dent into it) & extreme, boiling instability with temperatures 97-101 (heat indices 106-112) here with EML or elevated mixed layer below that upper jet all supports vigorous storm complex.
We do not want the severe weather (most likely widespread damaging straight-line winds), but we will GREATLY be in want of the rainfall!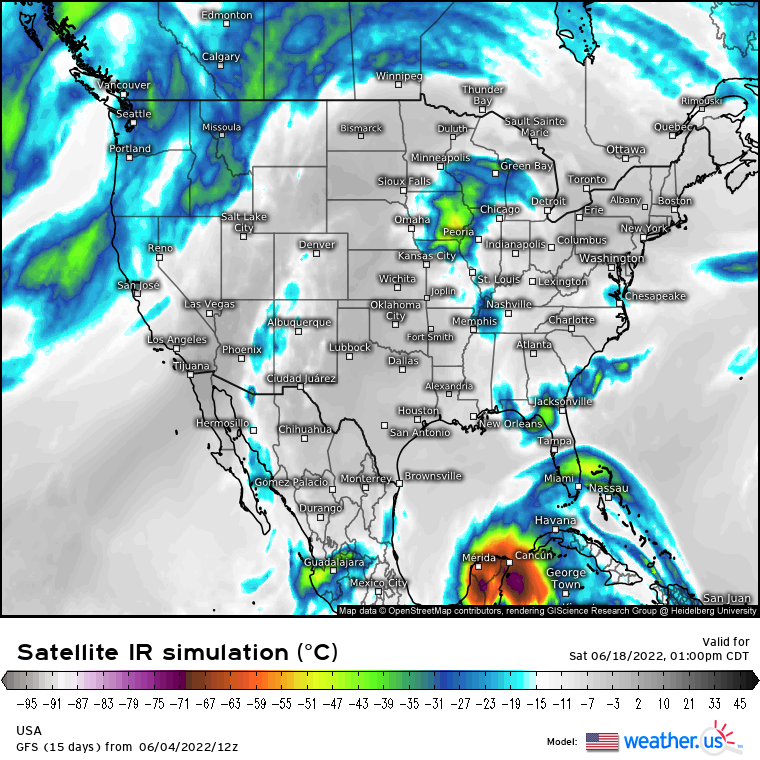 However, as quickly as we get relief, there are signs of hot ridge re-intensifying & expanding.
Look at its expanse re-developing!
This is 1988- & 1995- & 2012-style ridging!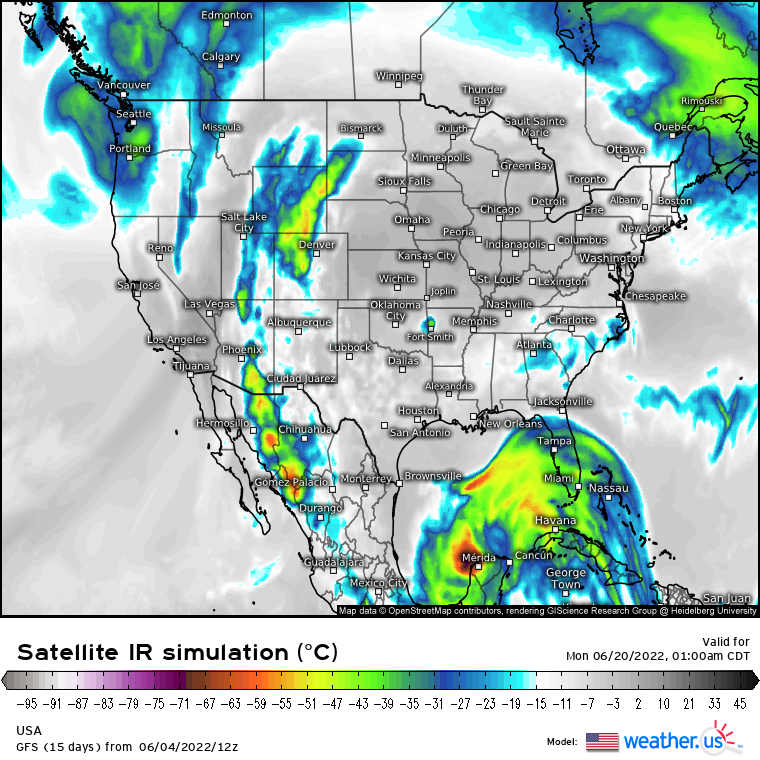 Note the 99-102 actual air temperatures in eastern Missouri expanding northeastward.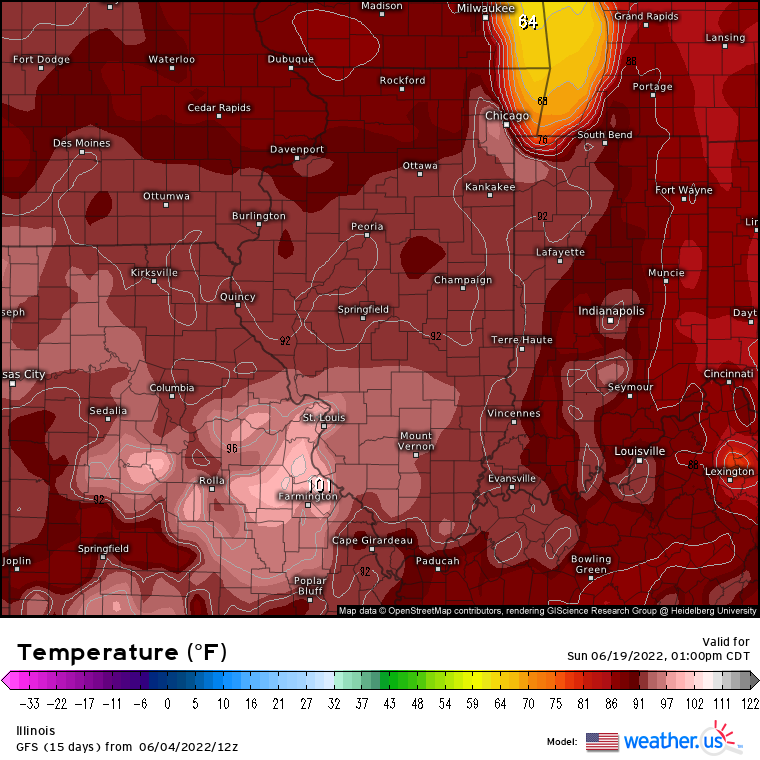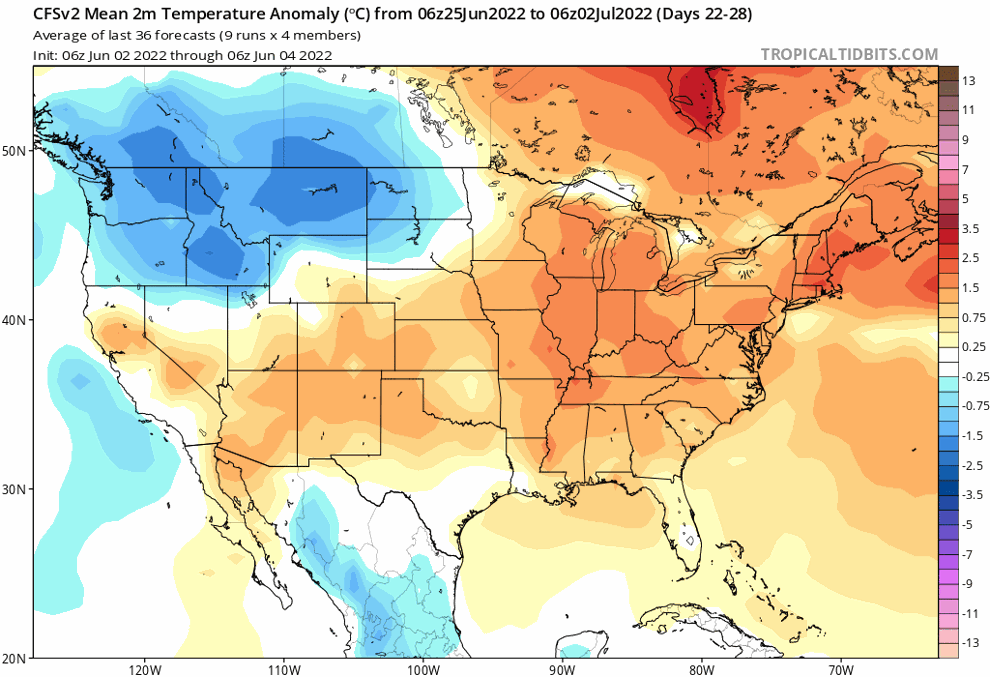 July looks hotter than normal.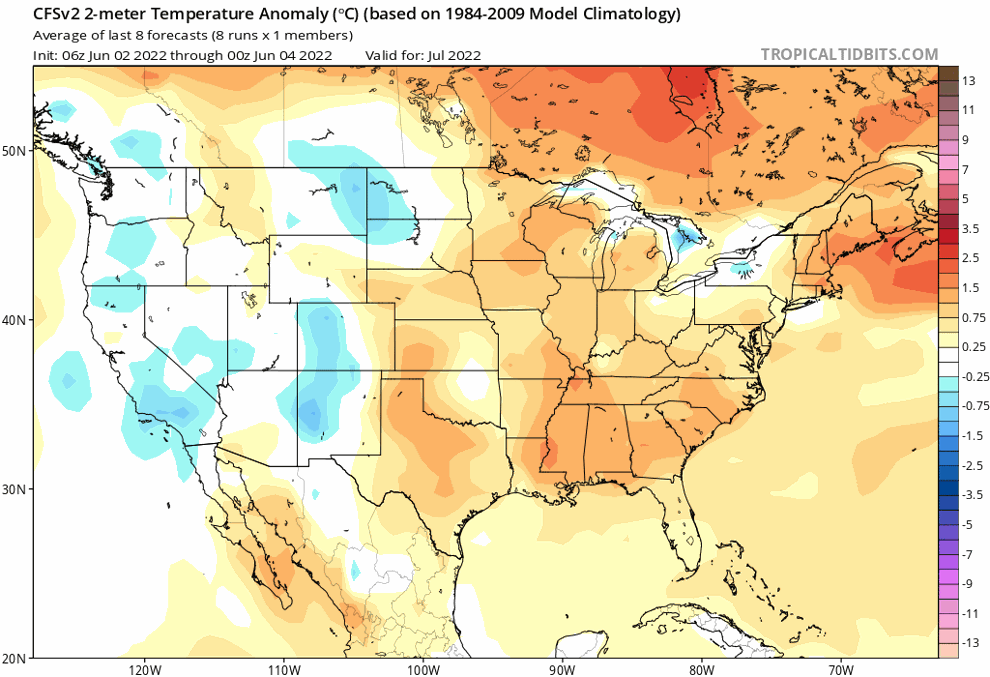 July also looks to have below normal rainfall overall with drought developing (here's to getting some "Ring of Fire" storm complexes or MCVs from "Ring of Fire" complexes to help mitigate this to keep it from getting too out of control … .that is the hope & the potential is there). We will watch the tropics, but the hot, dry upper ridge could deflect any tropical remnants that attempt to move into our area.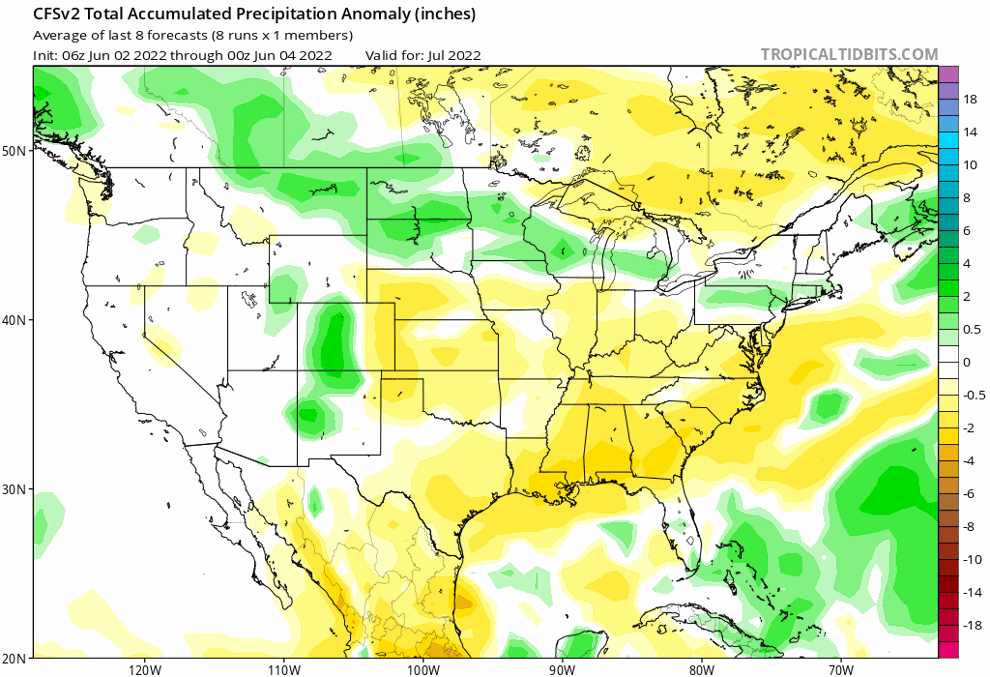 .