(WLFI) – Good Thursday evening! Temperatures this afternoon reached up to the mid to upper 70s to some 80s near Covington and Veedersburg. More clouds developed and gave way to just a couple of isolated showers and sprinkles.
For tonight, we will see clear skies to start then turn partly cloudy in spots overnight. Lows will get down into the mid 50s with winds turning more to the south by Friday morning at less than 5 mph.
Friday
Most of the morning for Friday should remain dry as cloud cover increases throughout the morning. With increased cloud cover and showers around, high temperatures will only reach into the mid to lower 70s area-wide.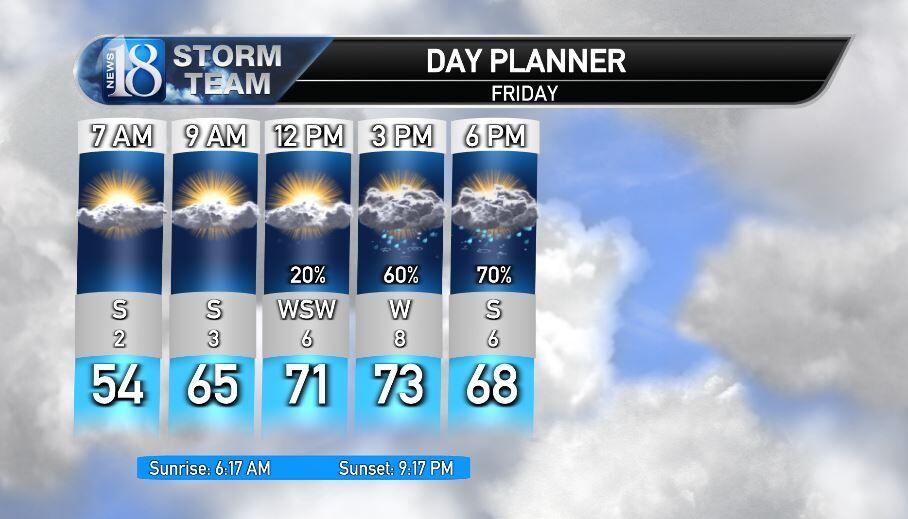 Scattered rain chances will begin to move into the NW portion of the viewing area (Newton and Jasper Counties) at around 12 PM and work to the southwest across the viewing area.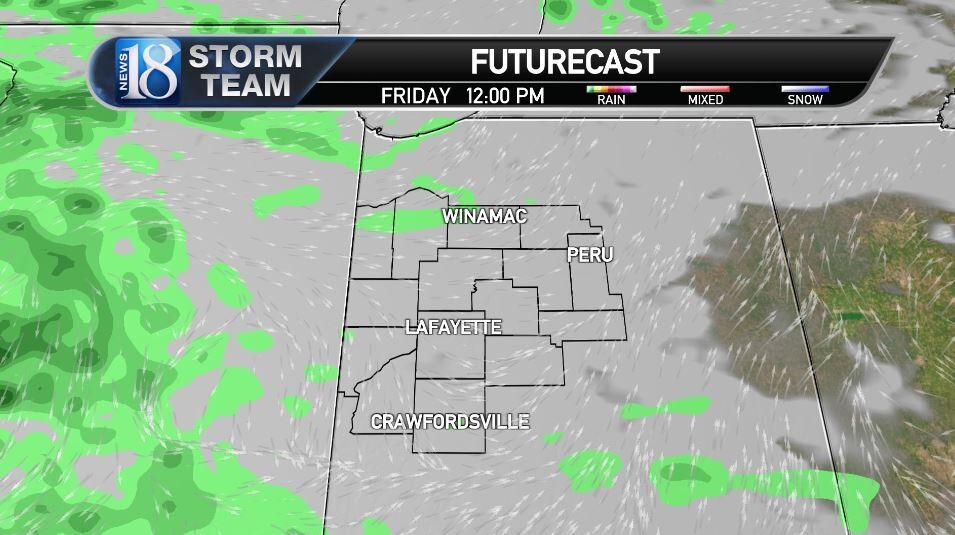 Instability for tomorrow will be low but a few thundershowers can not be ruled out. Severe weather will not be likely for the viewing area.
Scattered and isolated rain looks promising for most of the area by Friday afternoon and early evening. This will not be a widespread / all day event but some isolated showers will be likely.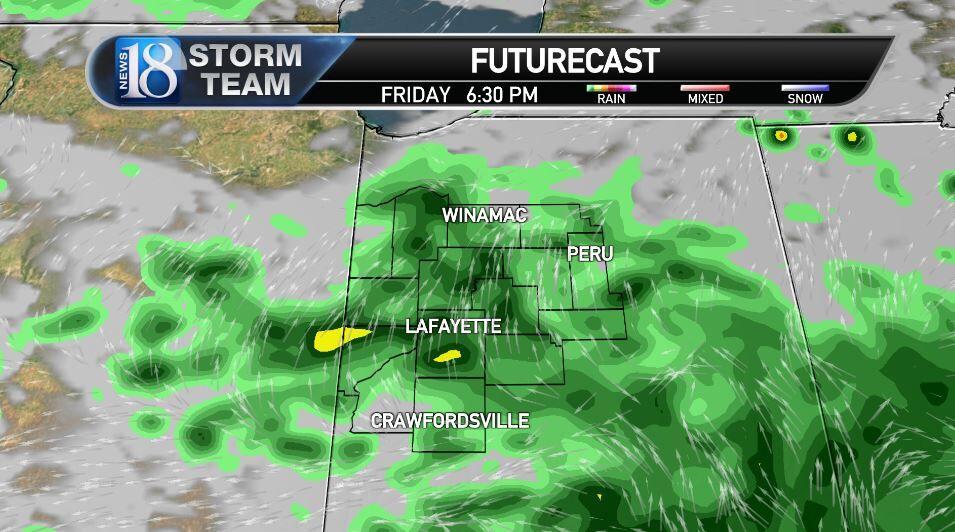 The rain is set to work out from NW to SE at 7 to 9 PM.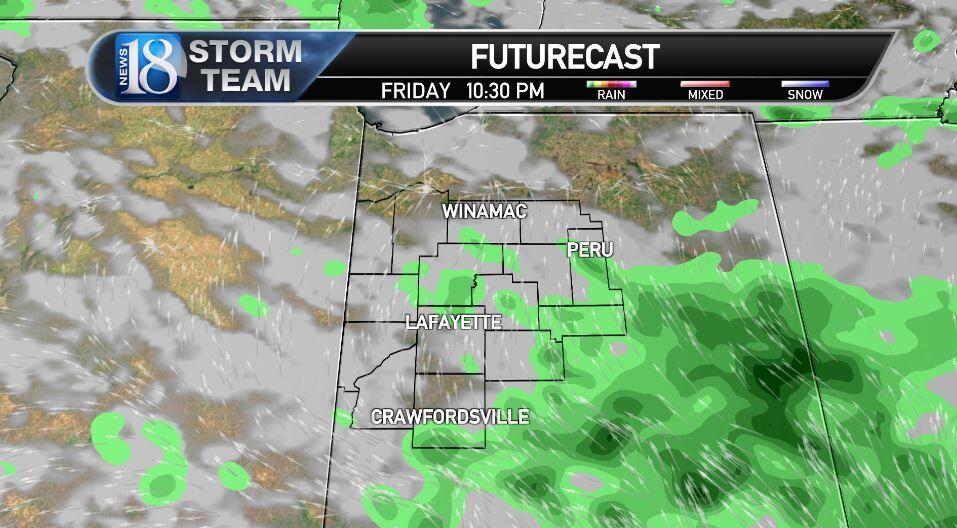 Total rainfall accumulations will remain below 0.20 "in most areas.
The Weekend
Saturday
Most of Saturday looks to remain dry. A few isolated showers may occur north of Highway 24 and remain in our northern counties. High temperatures for the day will get up to near normal, in the upper 70s with morning lows in the mid 50s.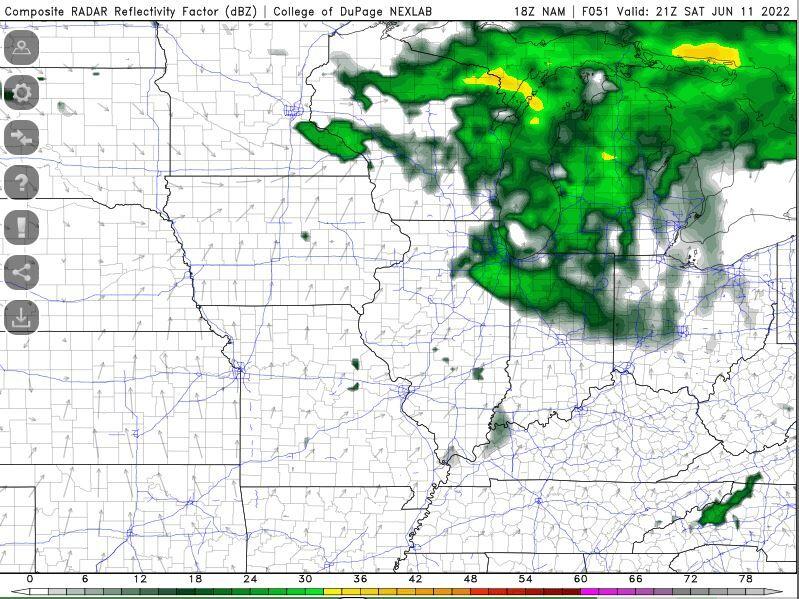 Sunday
Signals show another shortwave appears to work in for Sunday. As of today, better ingredients for severe weather appears to be further SW and this could originate from the Dakotas. This may end up being a strong long-lived storm.
However, widespread rain does not look likely as well as severe weather for us. Stay weather aware regardless because any deviation of the upper-level ridging may bring this closer to home. We'll be on the outer fringes of that ridge which will give us chances for these shortwaves but bear in mind, that it can be difficult to precisely forecast days out, what, and when these will move through. Right now, I'll keep chances at 30% for Sunday and 20% for Monday.
Precipitation looks hard to come by since the ridge appears to be expanding further east through next week. But if we do end up on the outer periphery, more storms could occur along the "Ring of Fire". Stay tuned!
Record-Breaking Heat Likely
Temperatures on Sunday will start to work up above normal with highs in the mid to upper 80s. Then by Monday, lower 90s for highs will be back in the forecast as the ridge of high pressure over the Central US expands into our viewing area.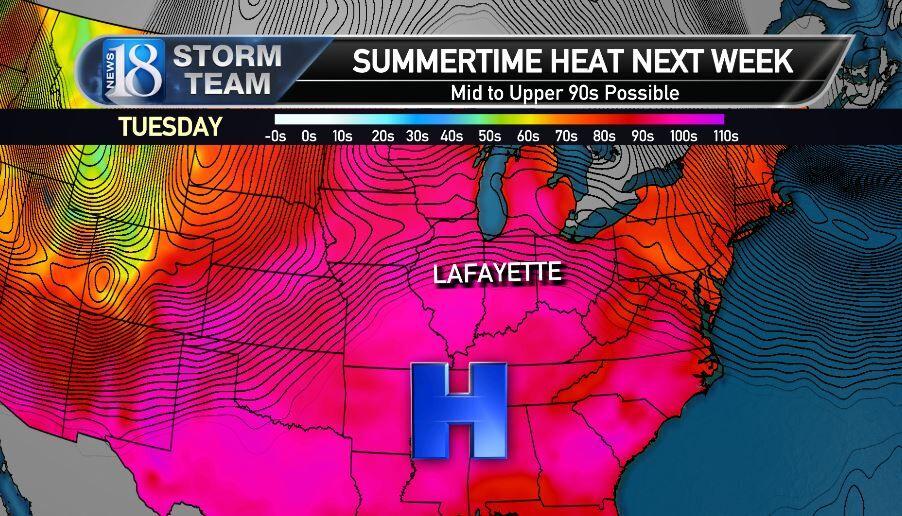 Tuesday and Wednesday, our high temperatures could easily reach the upper to mid 90s. For Lafayette, our record high on Tuesday, June 14th was 95 degrees back in 1988. Wednesday, June 15th was 95 degrees in 1913. We are expected to exceed this and break these highs for both days… Heat index values ​​will easily be near 105 degrees to 110 degrees in some locations. Dew points will be in the mid to lower 70s which will certainly cause very humid conditions and warm overnight lows in the mid to lower 70s.
Heat Safety
Since we will be seeing well above average temperatures next week, it is very important to keep heat safety in mind if you'll be outside. Below are a few tips from the National Weather Service. Also, keep an eye on your four-legged friends outside!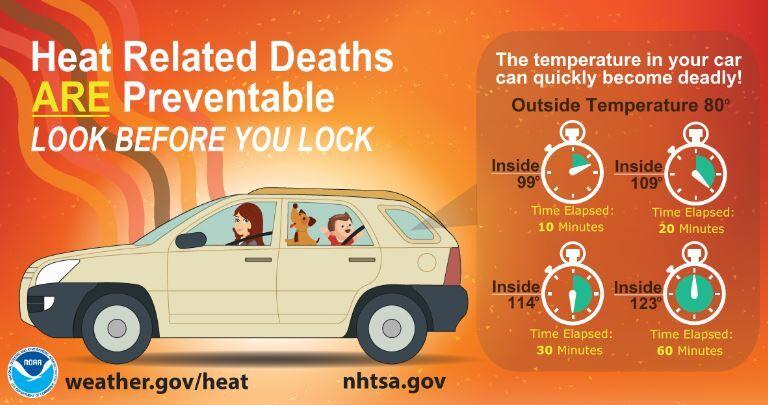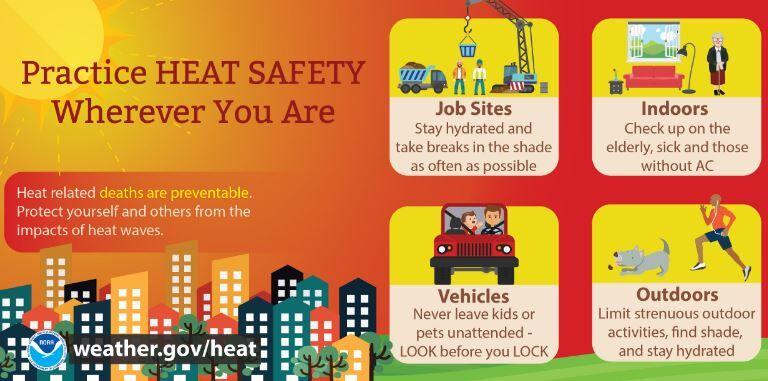 7-Day Outlook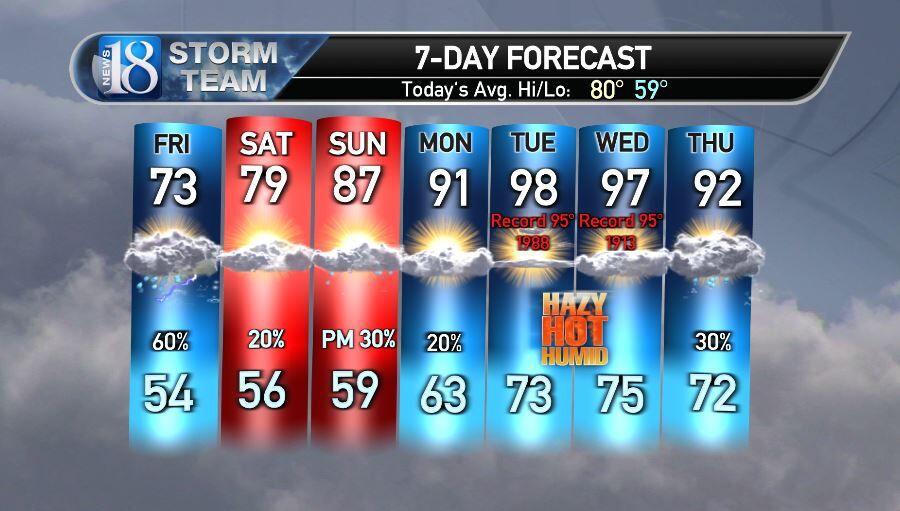 .